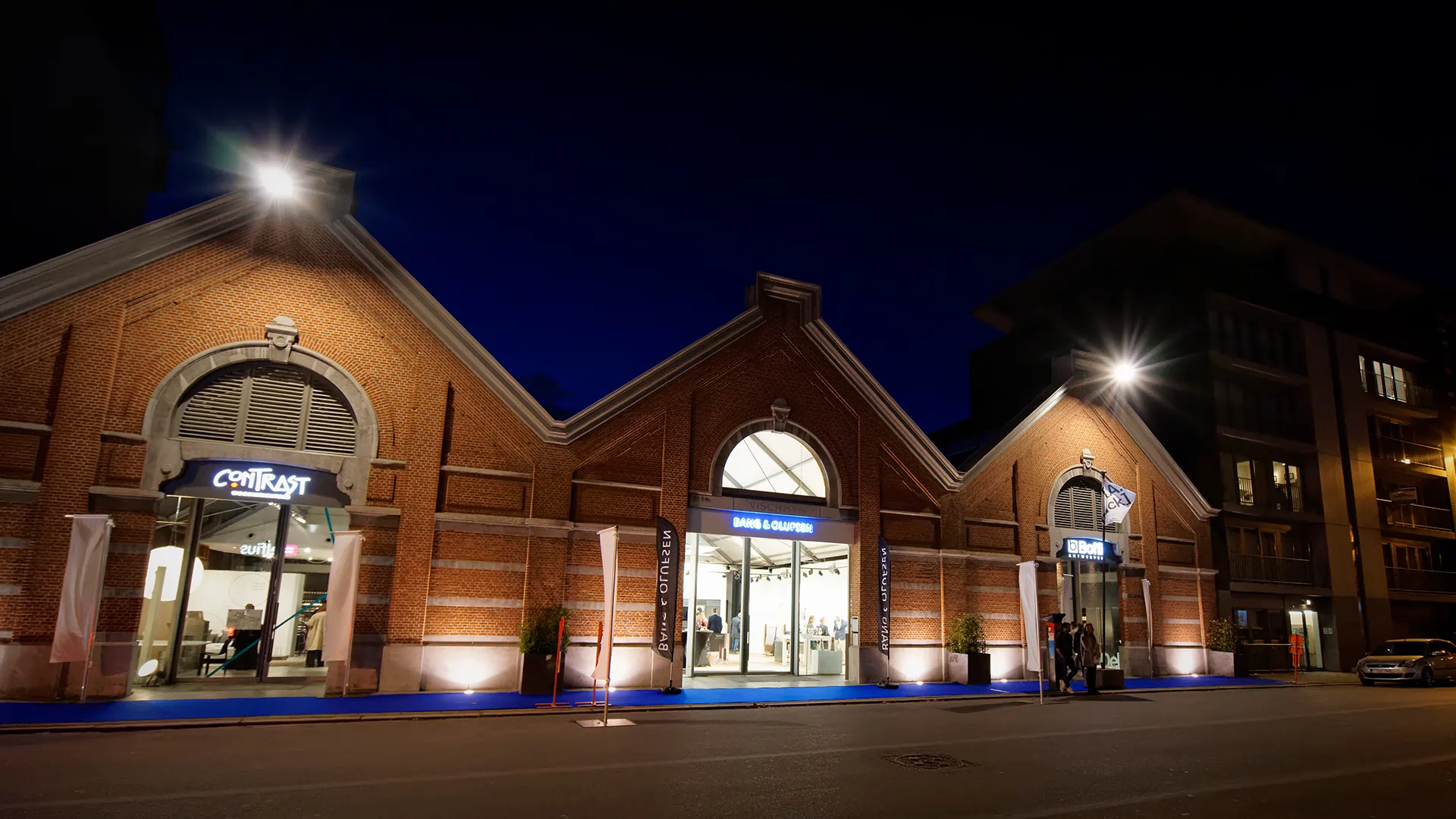 What once served as the Antwerp fish market (Vischmyn) has now been transformed into a contemporary place that houses the Boffi|DePadova showroom.
Located in the trendy and lively southern district (Het Zuid), an area where design, fashion, art, lifestyles, foods… meet and fuse to form a creative environment, the renovated building, which dates from 1894, has been Boffi's operational base in Antwerp since 2005.
With a surface area of ​​more than 500 m², Boffi|DePadova Antwerp presents a complete range of solutions for the interior design of your home.
The Boffi|DePadova living spaces find their place in the design cities all over the world and share the same refined architecture, mirroring elegant, middle-class apartments.
The interior systems from Boffi, the architectural partitions from ADL, the furniture elements from De Padova, with its exclusive partnerships like Paul Smith + De Padova and Time & Style ēdition, that only a versatile language such as De Padova's can establish, are all part of a narration enclosed in a 360° proposal.
---
Virtual tour Boffi|DePadova Antwerpen

Store in Antwerpen
Services
Project

We can draw up a draft of your project using fairly accurate plans that either you or your architect can provide. If required, we can come to your site to take measurements. We will then work with you or your architect to draw up a detailed list of specifications that will cover all aspects of your project, including technical requirements, aesthetic concerns, financial considerations and scheduling needs.

Request Information

Design

We use the latest software and IT equipment to ensure quick and accurate designs. Our services, if requested, may include consultation and technical assistance to companies that you may hire to work on our kitchen and bathroom models.

Installation

Our team of installers will work on a schedule that will be drawn up with you. There is a 3-year guarantee on Boffi cabinetry. For electrical appliances, all after-sales service and guarantee will be covered by the manufacturer. Maintenance and after-sales service of Boffi cabinetry under guarantee will be performed free of charge.

SPECIAL PRODUCTS

Discover our selection of products ready for delivery and give to your home style and elegance

CLICK HERE
---
Boffi|DePadova Antwerpen

Store in Antwerpen
Opening Hours
Tuesday: 10:30 – 13:00 / 14:00 – 18:00
Wednesday: 10:30 – 13:00 / 14:00 – 18:00
Thursday: 10:30 – 13:00 / 14:00 – 18:00
Friday: 10:30 – 13:00 / 14:00 – 18:00
Saturday: 11:00 – 17:00
Closed from 24.12.2023 - 03.01.2024
Address
Riemstraat 22
2000, Antwerpen, Belgium
---